About U2Browser
So how does a YouTube video get onto your screen? Is it streamed? Downloaded? What video format is it in and what player plays it? And how do you make a copy of a video that you can view off-line?
YouTube videos were only intended to be played through a link to YouTube.com using a Shockwave Flash Video Player installed in your browser. When you select a YouTube video, the Flash (FLV) file begins to download to your Temporary Internet Files folder, and when enough of the video has been downloaded, the file begins to play. It's smooth sailing if the download can keep up. Once the video file has been downloaded to your harddrive, the Flash player only requires the name of the file to replay it. But even if you can find the file on your harddrive, you need an FLV player to play it. Your browser doesn't really know what to do with an FLV file unless told to load it into the Flash Video plugin. If you drag the file into your browser it attempts to re-download it. If there is another player associated with the FLV file type, then the browser redirects the file to the other player. So unless you want to access all your videos through YouTube, you will want a separate FLV player.
The U2Browser program allows you to download YouTube (FLV) video files to your harddrive where you can replay them with an FLV video player of your choice. An excellent, and free, FLV video player can be downloaded here. Then you can add a reference to the FLV video player to play FLV videos from U2Browser.
U2Browser is also an IE style browser that manages the links to your favorite YouTube videos and keeps a history of videos viewed.
Capturing YouTube video frames does not require accessing the FLV file directly. Frames are captured and recorded as the video plays. Any video on the Internet can be recorded this way. These frames are saved as separate image files, which can be played back or edited using the Frame Player component of U2Browser. Frames can be resized, re-sequenced, cropped and stabilized then converted back to video or compiled into an animated GIF file.
For YouTubers who like to post video reviews, U2Browser can spell check any text copied to the Windows clipboard. U2Browser uses the same spell check facility as Microsoft Word, which must be pre-installed to make the spell check feature available.
The U2Browser Toolbar

Back to the previous page

Forward to the next page

Stop the page from loading

Refresh the current page

Home go to IE homepage or user defined homepage

Search user defined search engine

Favorites launches the favorites form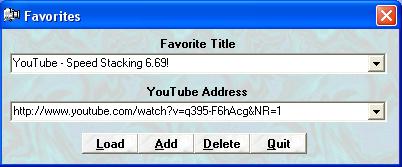 Save FLV file change filename and save to the harddrive. This feature can use either the Internal Downloader function, or a designated alternate URL (See Settings)

Play FLV file open a selected file into the default FLV Player

Help is found at the U2Browser website

Settings :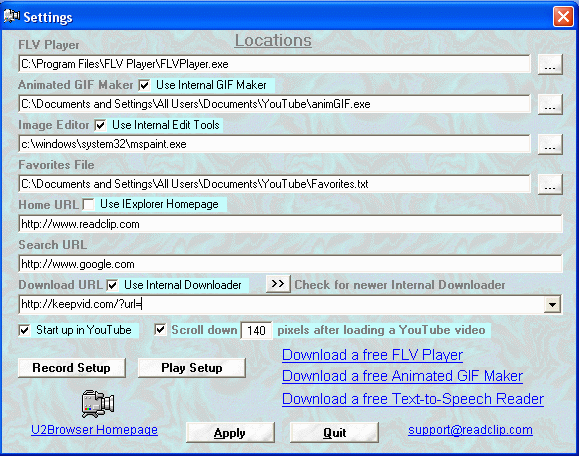 FLV Player plays an FLV file from the harddrive with the designated player

Animated GIF Maker if the Use Internal GIF Maker box is unchecked, creating an animated GIF is performed by an external animated GIF editor. If an external GIF maker is used, then the frame folder is displayed in Windows Explorer for file selection (if applicable).

Image Editor edits a single frame in the Frame Editor (if this option is checked) else an image editor of your choice. The image file gets auto-loaded into the Frame Editor (or external editor providing the editor allows for this.)

Favorites File contains a listing of your favorite YouTube videos. If a favorites file has not been designated, a file named Favorites.txt will be created automatically in the U2Browser root folder when the first favorite video gets saved.

Home URL target URL for the Home button. Check the Use IExplorer Homepage box to make the target URL your IE homepage.

Search URL designates a search engine.

Download URL if the Use Internal Downloader box is checked, then U2Browser will attempt to locate the YouTube video download URL and display the link. However, if YouTube continues to change its download procedure, the internal downloader may stop functioning. If this happens you can check for an updated version of the Internal Downloader online. Otherwise, uncheck the Internal Downloader box to use an URL from an alternate download site. There is a drop down menu listing for several sites that will download (and convert) a YouTube video. If an alternate site is designated, the video's URL is copied to the clipboard for pasting to the download site. If ?url= or watch?v= is added to the end of an URL, U2Browser will attempt to pass the video ID to the website so a copy/paste operation is not required. Note that only a few websites run scripts that accept these parameters and it is recommended to experiment with these URLs in the IE command line before designating one as the Download URL.

Start up in YouTube uncheck this feature if you want to start U2Browser on a blank page instead of the YouTube home page.

Scroll Down this option allows you view a new video at a desired screen position.

Record/Play Setup these buttons provide access to the record and play options.

Apply/Quit apply and save any changes, quit to close the settings form.